Bond Market Data
Size of LCY Bond Market in % of GDP
Data vary across markets. For details download spreadsheet.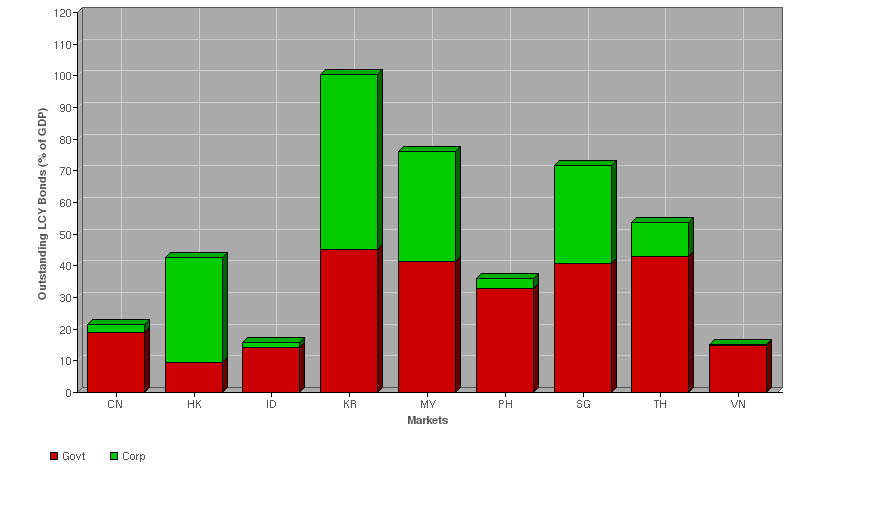 Size of Local Currency Bond Market in % of GDP
LCY bonds to GDP ratio =
Total amount of LCY bonds outstanding
x 100



---

Annualized Nominal GDP
This indicator shows the size of local currency (LCY) bond obligations as a percentage of nominal GDP. Sub-ratios are computed for the government bond market and corporate bond market. Government bonds include obligations of the central government, local governments, the central bank, and state-owned entities. Corporates comprise both public and private companies, and include financial institutions. Bonds are defined as long-term bonds and notes, treasury bills, commercial paper, and other short-term notes.
Note on the Data:
1. The total amount of LCY bonds outstanding is from:

CN: ChinaBond.

HK: Hong Kong Monetary Authority.

ID: Bank Indonesia, Indonesia Stock Exchange, and Directorate General of Budget Financing and Risk Management-Ministry of Finance.

JP: Japan Securities Dealers Association.

KR: KoreaBondWeb.

MY: Bank Negara Malaysia.

PH: Bureau of the Treasury; Bloomberg, LP.

SG: Monetary Authority of Singapore (Government bonds and annual Corporate bonds); Bloomberg, LP (Starting from 2007, quarterly data for Corporate bonds are estimated).

TH: Bank of Thailand.

VN: Bloomberg, LP.

2. For Republic of Korea, GDP for 1995 to 2000 is based on an old series. GDP for 2000 to 2007 is based on a new estimation method. Bank of Korea will release revised figures for the period prior to 2000 based on the new estimation method by the end of 2009.

3. For Indonesia, GDP figures beginning March 2008 are based on 2008 prices.

4. For Malaysia, GDP figures beginning March 2010 are based on 2010 prices.

5. Nominal GDP is from the CEIC Data Company Ltd. End-of-period rates are from Bloomberg, LP.